News
New agent for the Turkish textile and carpet industry
We herewith happily announce the strategic partnership with Masters Sınai Ürünler Mümessillik San. Ve Tic. Ltd. Şti.. As the exclusive agent for the Turkish textile and carpet industry, Masters will be responsible for selling the whole HEUSCH textile portfolio (shearing spirals, ledger blades, cylinders and shearing units) in the territory. The cooperation also includes the sales of services and repairs.
Ulaş ŞEKER
Tel : +90 216 445 23 63
Fax: +90 216 445 23 67
Mobil : +90 533 370 42 44
Posted on 02-01-2019
Tanning Tech 2019
Milan, February 20th - February 22nd, 2019
Please visit us!
Hall 18, booth B20 C19
Posted on 21-12-2018
IILF Chennai 2019
Chennai, January 31st - February 3rd, 2019
Please visit us!
HALL 1A STALL NO.08C
Chennai Trade Center
Posted on 21-12-2018
Importance of cutting angle for shaving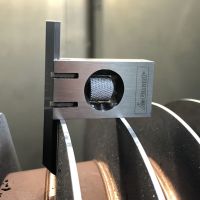 Posted on 23-07-2018
ITMA Asia + CITME
SHANGHAI, October 15th - 19th, 2018
Please visit us
National Exhibition Convention Centre (NECC)
Address: 333 Songze Avenue, Shanghai 201702
Hall H5, F18
Posted on 09-07-2018
ACLE 2018
SHANGHAI, August 29th - 31st, 2018
Please visit us!
SNIEC - Shanghai New International Expo Center
E2-F02d
Posted on 06-07-2018
Botswanan delegation visiting Heusch
Botswanan delegation to visit Heusch for vocational training and set up of tannery infra-structure
Initiated by VDMA on Thursday, June 14 a Botswanan government delegation visited our company to learn about the vocational training activities at Heusch. The delegation was led by Mrs. Ramokoka Permanent Secretary for Education of the south-african country. Immediately an engaged discussion started about the benefits of vocational training between Madam Secretary (fifth left), the Mayoress of Aachen Mrs. Scheidt (third left), the VDMA Head of Education International Dr. Voelkel (fifth right) and Heusch's Managing Director Mr. Schaefer (forth left). After viewing the dedicated workplaces for vocational training an intensive exchange of experiences with the vocational trainers all parties agreed that implementing vocational training would service Botswana well.
Later on the participants discussed the advantages of setting up a tannery industry in Botswana. Based on a population of about 5 million cattle tanning seems to have great potential.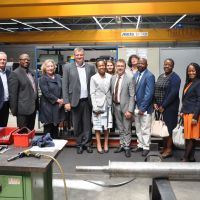 Posted on 15-06-2018
Heusch workshop in Morocco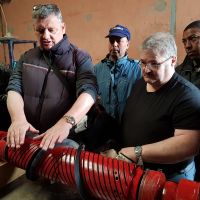 Posted on 12-06-2018
Innovative printing on textile spirals
Starting June 1st HEUSCH innovates the printing process on textile spirals. Instead of applying a mechanical punching process we will change to laser printing. Customer benefits of this new printing process change are as follows:
By abolishing the mechanical punching in the printing area of the spiral base we can guarantee an ideal fit of the spiral in this area.
As we are the first and only supplier utilizing this innovative system faked spirals are easy to identify. Our customers can be certain having original HEUSCH spirals in operation.
OEMs also have the option to print their logo on the spiral base. Even color prints of the logo are possible.
Posted on 17-05-2018
Obituary
Obituary for former Managing Director – on Rudolf Schebel's death
On April, 20th 2018 Mr. Rudolf Schebel at the blessed age of 90 passed away.
Mr. Schebel worked at Heusch from 1954 until 1999 in various positions. In 1970 Mr. Schebel was announced Managing Director of our company.
During his tenure Mr. Schebel formed and shaped the company according to his vision. Many new products and processes have been introduced during his stewardship.
With great foresight he developed our company into a global brand name in the textile and leather industry, establishing a worldwide network of sales and service partners.
Some of them still working with Heusch in the second generation.
Mr. Schebel will always be remembered for his outstanding leadership and guidance. We wish his family and his friends the strength to cope with his loss.
Posted on 02-05-2018