News
COVID-19
Dear customers and partners,
We very much appreciate your concerns about our wellbeing in this crisis.
Until today manufacturing of our products is unfazed by the lockdown. We are producing at full throttle.
As a precaution we created new shift plans for the shop floor to restrict personal contact to a minimum.
Most of our office staff have remote access to our systems allowing working from home.
For the foreseeable future supply of our products is guaranteed.
We wish you and your families all the best for this time of crisis.
Posted on 08-04-2020
New textile representation for Vietnam, Bangladesh and Thailand
We herewith happily announce the expansion of our long-term and successful partnership with Yuan Hsing Trading Co., Ltd. Taipei with immediate effect to the following markets:
Vietnam (textile and carpet)
Bangladesh (textile and carpet)
Thailand (textile)
Contact name: Iris Liu
Phone landline: 886-2-25566271
Phone mobile: 0933903152(Mr. Chang)
Fax: 886-2-25563536
e-mail: yuhstrad@ms75.hinet.net
Homepage: http://www.yuhstrad.com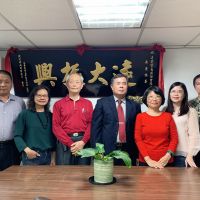 Posted on 09-03-2020