News
Tanning Tech 2020
Milan, 2020 February 19th - 21st
Please visit us!
Hall 18, booth B20 C19
Posted on 20-01-2020
Memorable Annual Dinner Party, Taipei
Yuan Hsing Trading Co., Ltd., HEUSCH's exclusive sales partner for Chinese Taipei (Taiwan) held their Annual Dinner January, 16th.
Staff, customers and business associates enjoyed culinary delights at one of the city's best Japanese restaurants.
All attendees were confident and optimistic about the new year of the rat.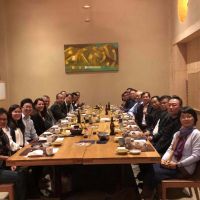 Posted on 20-01-2020
APLF 2020
Hongkong, March 31st - April 2nd 2020
Please visit us!
Hongkong Convention and exhibition center
3B-3E/DE
Posted on 13-01-2020